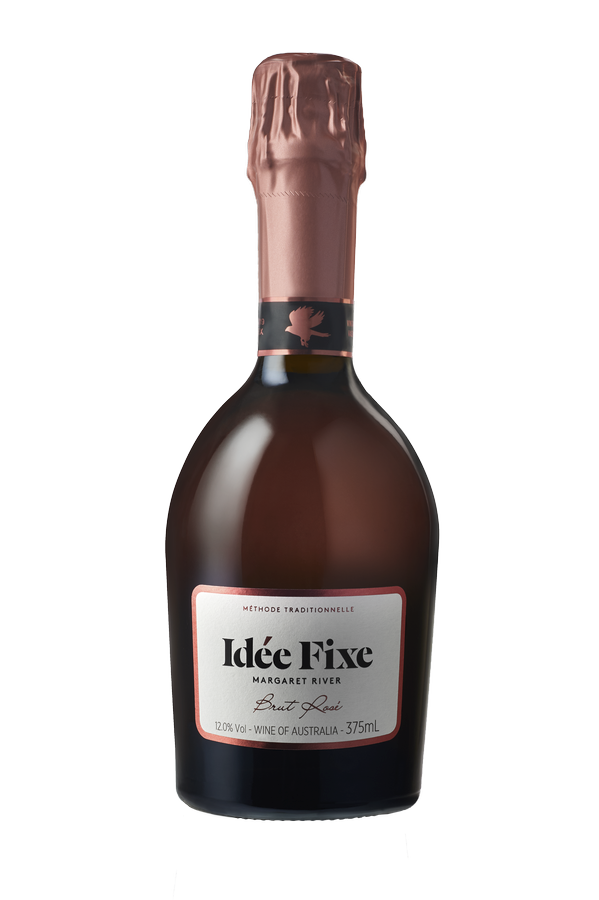 Idée Fixe Brut Rosé 375mL
Premier Brut's curious sibling, made from Chardonnay with a splash of Pinot Noir in a handy 375ml half bottle size.
Brut Rose
Single Bottle $30 - Minimum order of 6
Tasting Notes
Launch Offer: Free Shipping on Cases
The curious sibling to Idée Fixe Premier Brut, this Brut Rosé is crafted from estate-grown Chardonnay, with a small portion of Pinot Noir.
An elegant Rosé of vibrant, light-salmon hues. At the first pour, a distinct gunsmoke scent drifts away to reveal floral layers of pink and orange roses, exotic Western Australian Brown Boronia and wild strawberries. These evolve into pear, dried orange rind, bread crust, Sandalwood and Jamon, hinting at nuances of aged French oak. Brut Rosé dazzles the palate with its softly creaming bead, fine, vivacious mousse and light, textural tannins. Enticing flavours of strawberry tart, blood orange, Aperol and rhubarb linger.
DOWNLOAD TASTING NOTES
Varieties
Varietal
Chardonnay, Pinot Noir
Oak
Production Notes
100% French Oak
Pairing Suggestion
Idée Fixe Brut Rosé is a fetching aperitif or the perfect accompaniment to glazed salmon, roast duck or pairing beautifully with cheese and lean cured meats.